How Obama plans to create 600,000 jobs
Stimulus spending this summer will be guided by Vice President Joe Biden's 'Roadmap to recovery,' which he presented to the president Monday.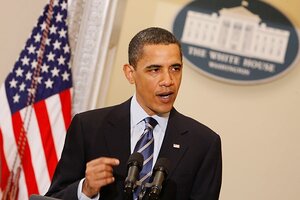 Charles Dharapak/AP
On Monday, President Obama provided the details of how his administration intends to "really accelerate" spending of the $787 billion economic stimulus bill passed by Congress last year.
The announcement represents an attempt by the Obama administration to respond to concern about the rising unemployment rate, which hit 9.4 percent nationwide – a 25-year-high – last week.
In a meeting with members his cabinet, he exhorted them to reverse the negative job cycle and replace it with a positive cycle.
"The key is building on our modest progress in the months to come," he said, saying that some 150,000 jobs have been created by the stimulus money.
The next step, he said, is to expand that to 600,000 jobs saved or created in the next 100 days.
After a televised address of his meeting with his cabinet, Mr. Obama and his officials worked privately on the details of the plan. At the cabinet meeting, Vice President Joe Biden, who is spearheading the spending of the stimulus dollars, presented the President with what was termed the "Roadmap to Recovery."
The road map includes 10 initiatives:
-The Department of the Interior will begin work to update and maintain 107 National Parks.
-The Department of Education is will fund 135,000 education jobs.
-The Department of Health and Human Services will pay for the expansion of 1,129 Health Centers.
-The Department of Transportation will begin improvements at 98 airports and over 1,500 highways.
-The Department of Veterans Affairs will make improvements at 90 veterans centers.
-The Department of Justice will hire or maintain 5,000 law enforcement officers.
---