Obama promises 600,000 new jobs from stimulus spending
Only $37 billion of the $787 billion has been spent so far. Confusing provisions and the sheer size of the bill have created delays.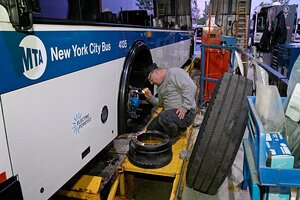 Kevin Rivoli/AP
President Obama is set to announce Monday plans to ramp up spending of the $787 billion in economic stimulus money this summer, promising to create or save 600,000 new jobs.
The president is frustrated that it's taking so long to get the money into the American economy. The national unemployment rate hit 9.4 percent last week, a 25-year high. According to the government's website, only $37 billion had been spent by May 22, and a good portion of that money went to Social Security recipients and tax relief.
An array of federal agencies from the Department of Health and Human Services to the Department of the Interior intend to accelerate spending on 10 major projects this summer, according to Reuters. Some of the expedited spending is for 200 waste and water systems in rural areas and some maintenance and construction projects at airports, highways, and the national parks.
But contractors and budget analysts familiar with government efforts to spend large sums of money say the delays are not surprising. Some states have their own competitive bidding rules, and "Buy America" provisions in the stimulus legislation are causing confusion.
In short, spending hundreds of billions of dollars quickly and responsibly is not easy.
"Starting something new and getting money out the door is not a fast process," says Stan Collander, a managing director at Qorvis Communications and a federal budget expert.
---