Push is on for a 'common' education standard for US schoolchildren
The state-by-state system leaves many students 'inadequately prepared,' Education Secretary Arne Duncan said Wednesday at a Monitor breakfast.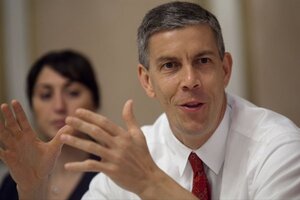 Michael Bonfigli
Education Secretary Arne Duncan threw his weight Wednesday behind a "common" education standard for all of America's schoolchildren, saying the current state-by-state system has produced uneven results in which some students "are totally, inadequately prepared to go into a competitive university, let alone graduate."
Mr. Duncan, who has been on a cross-country "listening tour" in preparation for submitting revisions for the No Child Left Behind Act, says he's encountered support for the idea of a national standard. "Teachers have been really positive on this idea of common standards," he said at a Monitor-sponsored breakfast for reporters. "That has played much better with teachers than I thought it would."
The secretary acknowledged, though, that what he calls "common higher standards, internationally benchmarked" would face hurdles and involve political pain. States and local governments are protective of their prerogative to set educational standards, and what Duncan is suggesting would be a huge break with tradition.
"Politicians don't like to go out and say, 'We are really struggling,' or 'Our kids are behind,' or 'Our kids are at a competitive disadvantage,' " Duncan said.
A better alternative to the state-by-state approach, he says, is to "get away from each state doing its own thing. Let's do one thing, and let's hold ourselves accountable." But raising the bar, he acknowledged, means "test scores are going to drop in some places precipitously. And what we have to do is we have to give those politicians cover for doing the right thing. So there is a real tricky balance that we have to work on here."
Mum on No Child Left Behind
---
Follow Stories Like This
Get the Monitor stories you care about delivered to your inbox.