GOP weakened by demographic, political forces
Experts say changing geographic and demographic trends are further endangering an already-beleaguered Republican party.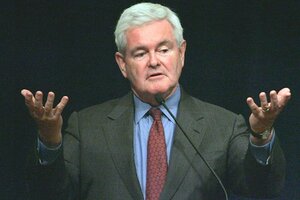 Bob Child/AP/FILE
There has been much chatter about who now speaks for the Republican Party, and whether the GOP has a message or an agenda to combat President Barack Obama's popularity. Those questions are important to the party's future, but the most serious problem remains the deeper demographic and political forces at work in the country.
For the past few months, political analysts and demographers have been poring over the results of the 2008 election and comparing them with presidential results from the past two decades. From whatever angle of their approach - age, race, economic status, geography - they have come to a remarkably similar conclusion. Almost all indicators are pressing the Republicans into minority status.
Republicans are still capable of winning individual elections, but until they find a way to reverse, or at least minimize, these broader changes in the country, their chances of returning to majority status will be severely reduced.
---
Follow Stories Like This
Get the Monitor stories you care about delivered to your inbox.