Homeland security to repeal national ID law
The Obama administration wants to replace the controversial Bush initiative with a cheaper, less rigorous ID program.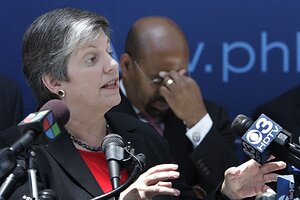 Joseph Kaczmarek/AP
Yielding to a rebellion by states that refused to pay for it, the Obama administration is moving to scale back a federal law passed after the Sept. 11 terrorist attacks that was designed to tighten security requirements for driver's licenses, Homeland Security Department and congressional officials said.
Homeland Security Secretary Janet Napolitano wants to repeal and replace the controversial, $4 billion domestic security initiative known as Real ID, which calls for placing more secure licenses in the hands of 245 million Americans by 2017. The new proposal, called Pass ID, would be cheaper, less rigorous and partly funded by federal grants, according to draft legislation that Napolitano's Senate allies plan to introduce as early as Monday.
The rebranding effort follows months of talks with the National Governors Association and poses political risks for Obama as well as Napolitano, a former NGA chairwoman who wants to soothe strained relations with the states without appearing to retreat on a recommendation by the 9/11 Commission.
Commissioners called for federal standards for driver's licenses and birth certificates, noting, "For terrorists, travel documents are as important as weapons." Eighteen of 19 terrorist hijackers obtained state IDs, some of them fraudulently, easing their movements inside the country.
---