After Letterman apology, what's next for Palin?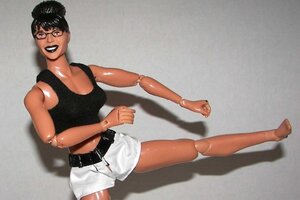 NEWSCOM
Now that Sarah Palin has accepted David Letterman's apology for the tasteless joke he told last week, will the controversy end or will it keep going?
In Palin's mind, it's probably over. She not only got the apology she was looking for but she even found support from unsuspecting sources like the View's Joy Behar and the left-leaning National Organization for Women.
The apology's not enough to satisfy the most die-hard Palin fans, however. A protest will be held in front of the Ed Sullivan Theater in New York today.
Regardless of whether there's any life left to this, Palin has proved she can win a smackdown with one of the kings of late night. Letterman has also shown he knows how to grab headlines, apologizing multiple times until he gets it right, exactly when he needs to: Conan O'Brien is struggling as Jay Leno's successor over at NBC, and this is Letterman's big chance to steal viewers.
Big deal?
---