Obama and Lee Myung-bak both condemn North Korea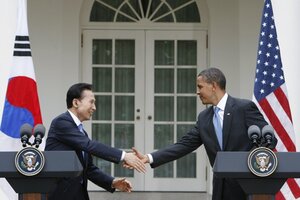 LARRY DOWNING/REUTERS
On a sunny and humid Washington morning, South Korea's president took part in an Obama Administration first -- the first Rose Garden news conference Barack Obama has held with a foreign leader.
Tuesday's ceremony was clearly designed to symbolize the unity and determination of the two countries' alliance at a time when North Korea has said it will expand its nuclear programs and is reportedly preparing to test a missile which could reach Alaska.
President Lee Myung-bak and President Obama emerged from the outside door of the Oval Office at 11:40 a.m. dressed eerily alike in dark blue suits, white shirts, and light blue ties.
To underscore the message of unity, in his opening remarks President Obama announced that First Lady Michelle Obama was "looking forward" to hosting Mrs. Lee. After the session, Messrs. Lee and Obama were slated to have lunch with Vice President Biden and other aides in the Old Family Dining Room on the second floor of the White House.
The men broke little policy ground in their appearance. As they spoke, White House Chief of Staff Rahm Emanuel stood under the colonnade linking the West Wing and the residence, working on his BlackBerry. National Security Advisor James Jones chatted a few feet away.
---