A bipartisan healthcare plan? 'Yes we can,' say former Senate leaders.
Democrat Tom Daschle and Republicans Bob Dole and Howard Baker put forth an alternative proposal Wednesday.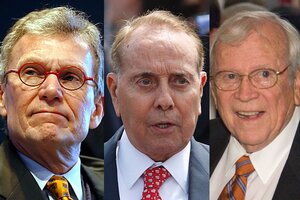 David Zalubowski/AP/ File, Pablo Martinez Monsivais/AP, Newscom
Three former Senate leaders on Wednesday announced a bipartisan plan for healthcare reform – a counterpoint to the first Senate markup of healthcare legislation, which fell out along sharply partisan lines.
The bipartisan framework includes a requirement for all Americans to purchase health insurance, with a refundable tax credit to offset the cost for lower-income families. The plan offers tax credits for small businesses that offer health benefits and levies fees for employers who do not.
Sens. Tom Daschle (D) of South Dakota, Bob Dole (R) of Kansas, and Howard Baker (R) of Tennessee no longer serve in the Senate, lead their party caucus, or face voters. (Sen. George Mitchell (D) of Maine, the second Democrat on the team, resigned to serve as special envoy to the Middle East in the Obama administration.)
But the logistics of getting to a bipartisan outcome – typically a must to pass major legislation in the Senate – hasn't changed. It requires flexibility from all sides.
"We are facing a critical moment in our nation's history," said Senator Baker, comparing the struggle for healthcare reform to landmark civil rights legislation in the 1960s.
"Health reform can be achieved," he added. "But in order for that to happen we must work beyond our points of disagreement and focus on reaching bipartisan solutions."
One of the flashpoints on Capitol Hill is whether or not to tax existing employer benefits – a move that runs afoul of President Obama's campaign pledge not to add new taxes to families with incomes less than $250,000. But after intense negotiation, the former Senate leaders agreed to cap the tax exclusion at the value of benefits received by members of Congress.
---