Ensign quits leadership post in wake of extramarital affair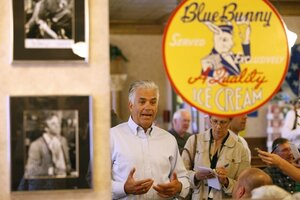 CHARLIE NEIBERGALL/AP
The scandal surrounding Nevada Senator John Ensign is the last thing Senate Republicans need.
On Tuesday, Ensign went home to Nevada to announce that he had had an extramarital affair with a woman on his campaign staff. Today, Ensign stepped down from his post as chairman of the Republican Policy Committee, the fourth highest raking spot in the Senate GOP leadership. Ensign remained in Nevada on Wednesday.
A former rising star
Before the news of his indiscretion, Ensign had been a rising star in the party. He recently had spoken at events in Iowa, raising speculation he was considering a run for his party's presidential nomination. In 2008, he ran the National Republican Senatorial Committee (NRSC), in charge of electing Republican candidates. Colleagues did not appear to hold him responsible for the losses his party suffered in the Senate where they now control just 40 seats.
It is not clear yet how much political impact the Ensign scandal will have. The senator is not up for re-election in 2010, so his seat is not immediately in peril. But the controversy surrounding his affair could make it harder for Republicans to mount an effective challenge for the state's other Senate seat, held by Democratic Majority Leader Harry Reid, which is up in 2010.
Reid is being careful not to seem to capitalize on Ensign's problems. Reid told Politico, "This is a private family matter."
---