Sotomayor's influence: Latinas in the South Bronx follow her lead
Many Latinas hope that the nomination of Sonia Sotomayor to America's highest court will replace negative Latina stereotypes with the diversity and depth that is at the heart of Puerto Rican culture.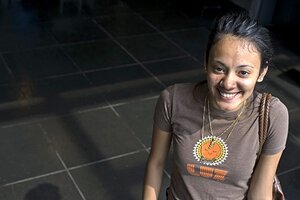 Ann Hermes/The Christian Science Monitor
Savannah Irizarry's pink baseball cap proudly proclaims: "Boricua," an indigenous island word for Puerto Rican. Gold rings many of her fingers and several gold necklaces are draped around her neck, one of which spells out her nickname: "Savvy.""I tell everybody to look it up in the dictionary," she says with a grin, "that's who I am."
Just who Savvy is is as familiar as the iconic ghetto Latina with gum-snapping swagger and yet as uniquely exceptional as any young person driven by dreams.
It was the young Sonia Sotomayor, now President Obama's Supreme Court nominee, who launched her own exceptional dreams from the very same stomping grounds that Savannah comes from - the Bronxdale Houses, a sprawling housing project in the South Bronx.
Savanna wears her Puerto Rican and South Bronx heritage with pride. Yet she's never thought of herself as anything but an American kid.
And as for the stereotype? Savannah certainly recognizes it but she is sometimes refreshingly oblivious to it. She's never seen "West Side Story," nor heard of Hollywood's Rosie Pérez, the voluptuous Brooklyn-born Puerto Rican actress who's played many a ghetto girl in her career. And it was from a textbook that this 20-year-old college freshman first learned that the traditional Latina mostly "cooked, cleaned, and followed her man."
---