Will Obama's financial regulatory plan work?
Major elements of his proposal must be cleared by Congress – something he hopes to achieve this year.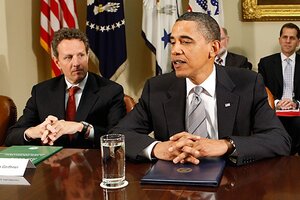 Pablo Martinez Monsivais/AP
President Obama's proposed overhaul of financial-industry regulation blends ambitious scope with some political realism, but that doesn't necessarily mean it will be successful.
The goal is a daunting one, after all: to make the financial system much less vulnerable to the kind of crisis seen last year.
Mr. Obama and his economic team are trying to strike a careful balance – imposing new oversight where systems failed, while not attempting a politically divisive remake of the whole system from scratch.
Some financial experts worry the proposals fall short. The risk, they say, is that regulatory flaws will be patched over while leaving the system as vulnerable as ever to a new crisis.
Even if the plan is well designed, key hurdles remain. Major elements must be cleared by Congress, something Obama hopes to achieve this year. And any regulation is only as good as the people who implement it. The regulatory climate can be as prone to cycles as the financial markets themselves.
"They have tried to achieve very ambitious goals within the framework of what is realistic," says Doug Rediker, a former investment banker now at the New America Foundation in Washington. The economic crisis creates a window in which Congress may be able to pass sweeping changes, he says, yet "there's a real risk that well-intentioned proposals get watered down."
Among the questions that will face Treasury Secretary Timothy Geithner, as he defends the plan on Capitol Hill:
---