Healthcare cuts could shift costs to private sector
Obama's plan could result in higher costs for insurers, employers, and those with private coverage.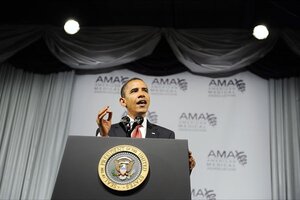 Jonathan Ernst/Reuters
President Obama's plan to rein in federal spending on healthcare could end up shifting costs to the private sector, economists say.
Unless doctors and hospitals are able to respond to the government cuts by becoming more efficient, the result could be higher costs for insurers, employers, and people with private medical coverage, they say.
Historically, healthcare spending has been a bit like a balloon: If it is squeezed in one place, it tends to bulge in another.
"I think there's definitely risk that a portion of the reduction in hospital payments from Medicare will wind up as increased payments by private insurers," said Paul Ginsburg, president of the Center for Studying Health System Change.
Depending on the circumstances, hospitals may have the motive and means to "transfer those charges to somebody else," and "we'll see costs increasing on the private side and not necessarily falling everywhere," said Harold Luft, director of the Palo Alto Medical Foundation Research Institute.
The biggest healthcare proposal that Obama announced last weekend is especially likely to move costs to the private sector, because it would cut Medicare payments without giving hospitals the tools to deliver care more cost-effectively, Luft said. The administration predicts that measure - adjusting Medicare payments to reflect productivity changes in the overall economy - would save the government $110 billion over 10 years.
Squeezing from the government's end could make healthcare more efficient for everybody. "If you push on one side, you're actually pushing on the whole thing," said Kenneth Baer, a spokesman for the Office of Management and Budget.
---