Overwhelmingly popular Michelle Obama heads to West Coast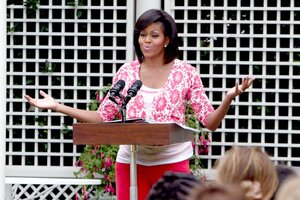 NEWSCOM
A highly popular Michelle Obama will head to the West Coast next week for several charity events.
A popular ambassador
Mrs. Obama's strong standing in the polls makes it clear why the White House loves having her on the road, flying the administration's flag at a time when her husband is pressing Congress to pass a series of ambitious legislative proposals.
A new public opinion survey by the Pew Research Center for the People & the Press, released Thursday, shows Mrs. Obama is even more popular than her husband. More than seven-in-ten Americans (72 percent) say they have a favorable impression of Barack Obama, while 25 percent have an unfavorable opinion, virtually unchanged from April, Pew reports.
Mrs. Obama has higher favorability ratings and lower unfavorability marks than her husband. Some 76 percent of those polled have a favorable view of the first lady, while 14 percent have an unfavorable impression.
Bipartisan appeal
The first lady appeals to more than just Democrats. As was the case in April when the last Pew survey was conducted, a majority of Republicans (59 percent) say they have a favorable opinion of Mrs. Obama. Among independents, 73 percent have a favorable view of her. Not surprisingly, some 92 percent of Democrats like her.
---