House Democrats unveil healthcare plan - but what will it cost?
Price will be a major factor in winning bipartisan support, and the public insurance option could be a sticking point too.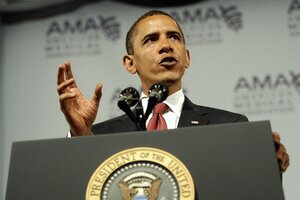 Jonathan Ernst/Reuters
House Democrats on Friday unveiled their draft plan to ensure "quality affordable healthcare" for all Americans -- but without the politically critical price tag.
The plan relies on a new Health Insurance Exchange, including insurance reforms, consumer protections, and a public health insurance option. At the heart of the draft proposal are two key mandates:
Individuals must obtain insurance coverage -- or pay a penalty based on 2 percent of adjusted gross income, with exceptions for hardship.
Employers must provide health insurance for their workers -- or pay a fee based on 8 percent of their payroll, with exemptions for "certain small businesses."
In a statement, President Obama dubbed the House healthcare reform proposal "a major step toward our goal of fixing what is broken about healthcare while building on what works."
CREDITS FOR LOW-INCOME FAMILIES AND SMALL BUSINESSES
To broaden access to healthcare, the plan proposes credits for low- and moderate-income individuals and families on a sliding scale: Credits begin just above the proposed new Medicaid eligibility levels and gradually phase out at 400 percent of the federal poverty level ($43,000 for an individual or $88,000 for a family of four).
Small businesses that "want to provide health coverage to their workers but cannot afford it today" will be eligible for a new small business tax credit.
At the same time, the plan sets up consumer protections for all new policies. It caps annual out-of-pocket spending to prevent bankruptcies from medical expenses and bars discrimination based on an individual's health status, including preexisting health conditions.
---