First Lady calls for volunteers, young Americans answer
Michelle Obama asked for more community service Monday, but rising volunteerism among Generation Y suggest it has already caught the spirit.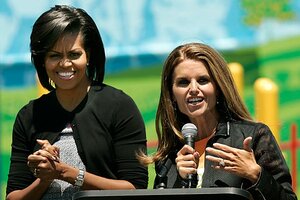 Robert Galbraith/Reuters
First lady Michelle Obama arrived here Monday to launch a nationwide campaign to boost volunteerism, but it appears that a growing number of Americans have already answered the call to community service.
Charity groups and service organizations across the country are seeing an increase in volunteers, and college graduates are signing up in record numbers with groups like Teach for America and AmeriCorps.
While some experts say the recession is helping to feed the ranks of service groups, others say that community organizations are also benefiting from a generational shift in how young Americans view volunteerism.
"We are seeing a spike in volunteerism" that is counter to historical trends, says Sandy Scott, spokesman for the Corporation for National and Community Service, the federal agency that promotes and tracks service.
Typically during a period of high unemployment, volunteerism will drop. But during this recession, he says, many organizations are reporting a surge in inquiries for volunteer positions.
"We think that there is something else going on," he says.
That something may be a greater emphasis placed on service by this generation of young people, he says. They came of age during 9/11 and Hurricane Katrina – community service surged in the years after those events – and because of that, they are more apt to volunteer, he says.
Applications for the AmeriCorps rose 234 percent this year compared with last. Similarly, Teach for America, the program that sends America's brightest college graduates to teach in its poorest schools, saw a 42 percent increase in applications this year. Both programs offer
participants some compensation – AmeriCorps gives money toward college and Teach for America connects graduates with paying jobs – but are considered forms of service. [Editor's note: The original version did not mention that these groups are not wholly voluntary.]
---
Follow Stories Like This
Get the Monitor stories you care about delivered to your inbox.