US gives carmakers $8 billion to go electric
The Energy Department made the announcement Tuesday, just as Nissan said it will start selling an all-electric car in the US next year.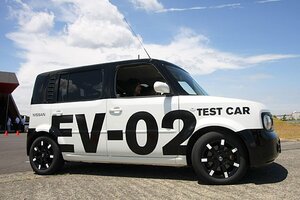 Tatsuyuki Tayama/AFP/FILE
The shift toward electric-powered vehicles gained momentum Tuesday, as major automakers outlined production plans and became the first to tap a $25 billion government fund.
Ford, Nissan, and the upstart California carmaker Tesla will get the first chunk of the fund to be disbursed – $8 billion in loans to boost development and production of advanced energy-efficient cars in the US. The Energy Department, which announced the funding, said it plans to make loans in coming months to other large and small automakers and parts suppliers.
Separately, Nissan said it will start selling electric cars in Japan and the US next year and to have them in mass production by 2012. Nissan will use the government loan to support its plan.
The announcements signal an industry in transition. Even as carmakers struggle to weather a deep recession, they want to be ready to meet the changing demands of consumers and government policymakers. They need to make cars that their customers can afford to buy. But they also can't afford to be caught without cleaner technologies at a time of potentially rising oil prices and tightening standards for emissions.
At a shareholders meeting in Japan, Nissan CEO Carlos Ghosn said he's expecting to thread that needle.
"If it's not affordable, it's not going to work," he said, according to an Associated Press report. But "I can tell you I'm not at all worried about how to sell these cars, because there is an appetite for zero-emission cars."
The goal of the loan program, passed by Congress and the Bush administration in 2007, is to accelerate clean-car production and sales. But the funding will also act as a kind of jobs program for a hard-hit industry.
---