Pelosi embarks on 'tricky business' of passing climate bill
A successful vote Friday could give the administration momentum on its biggest priority: healthcare reform.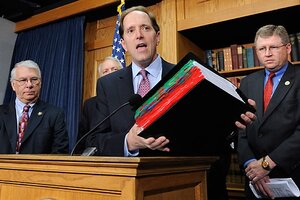 Susan Walsh/AP
If all goes according to the Democrats' plan, climate change legislation will pass the House on Friday.
The vote is likely to be close, and the bill's contents are not exactly what many environmentalists were hoping for. But the point is to get something of what President Obama wanted, thus allowing him – and House Speaker Nancy Pelosi – to claim victory on a top priority.
The bill calls for a reduction in US greenhouse gas emissions by 17 percent over 2005 levels by 2020, and a cut of 83 percent by 2050. The mechanism for achieving that goal is a "cap-and-trade" system, in which industries buy and trade permits that allow them to emit carbon in prescribed quantities. During the presidential campaign, Obama promised a cap-and-trade bill that would auction off 100 percent of emission permits. In reality, only a portion will be auctioned, and the rest given away.
But in Congress, a win is a win. And victory on the climate change bill – formally called the American Clean Energy and Security Act – would also create a sense of momentum as Congress tackles Obama's biggest priority, healthcare reform. The willingness of the climate bill's lead sponsors, Rep. Henry Waxman (D) of California and Rep. Edward Markey (D) of Massachusetts, to make significant compromises in the name of passage could be instructive, analysts say.
---