Sanford returns home to impeachment rumblings
Did South Carolina's missing governor commit a 'serious offense' by going underground in Argentina?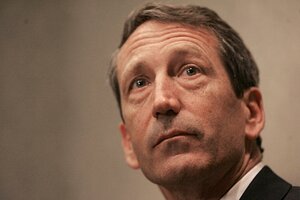 Mary Ann Chastain, file/AP
UPDATE:  Read the transcript of the live blogging session that took place during Governor Sanford's press conference.   "The Vote" blogger Jimmy Orr spoke with Gary Karr during the event.  Karr is a longtime South Carolina political pundit serving as a reporter for the State House and as press secretary for former South Carolina Governor David Beasley.
---------------
What began as a story of a quirky Southern governor going on a mystery walkabout took a more serious turn Wednesday morning, with reports of impeachment talk bubbling out of South Carolina's capital.
The disappearing act by Mark Sanford, a gubernatorial hero of the GOP who resurfaced after a five-day incommunicado absence, has not played well, even among members of his own party. The impeachment rumblings, first cited by Southern Political Report editor Tom Baxter, are more grave, though. In a bulletin Wednesday morning about the impeachment talks, Mr. Baxter quotes "well-placed sources" in Columbia.
---