Sanford's affair: a distraction the GOP doesn't need
Sex scandal engulfing South Carolina's governor may keep Republicans from focusing on their real task: to define an alternative vision to Obama's.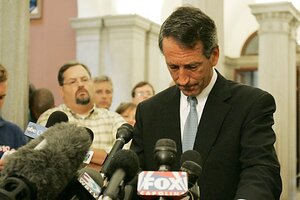 Mary Ann Chastain/AP
Gov. Mark Sanford's admission of an adulterous affair will, if nothing else, complicate his immediate future as top executive of the Republican-red Palmetto State.
But more critically, it will no doubt be a huge distraction from the real task before the Republican Party: to come up with a credible alternative vision to the one President Obama offers, to find a leader who can articulate it, and to shake off the shroud of hypocrisy that befalls the family-values party whenever one of its own admits to adultery.
"This just underlines again that Republican politicians should leave the preaching of moral values to preachers," says Larry Sabato, a political scientist at the University of Virginia. "Until they move away from divisive social issues, this is going to happen to them again and again."
While sex scandals involving Democrats Bill Clinton and John Edwards may have hurt their careers, the party itself largely withstood the fallout. The damage may run deeper for the GOP. Recent scandals involving Republicans such as former Sens. Larry Craig and David Vitter, former Rep. Mark Foley, Rep. John Ensign, and, now, Governor Sanford come at a time when the party is struggling to be relevant in Washington, perhaps by working with majority Democrats – against the druthers of its political base of social conservatives.
---