The great sell-off: Chicago auctions city assets
The city is auctioning private assets to the highest bidder. But private ownership of parking meters stirs a backlash.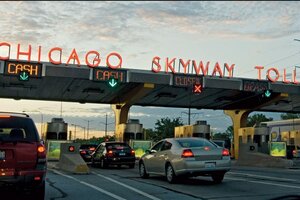 Stephen J. Carrera/Special to the Christian Science Monitor
No city in America beats Chicago when it comes to selling public assets - garages, bridges, even parking meters - and contracting with private companies to supply traditional public services.Over the past five years, the Windy City under Mayor Richard M. Daley has sold or leased out public institutions such as the Chicago Skyway ($1.83 billion), underground garages beneath Grant and Millennium Parks ($563 million), and, more recently, city parking meters ($1.15 billion).
That's not exactly chump change, especially for a city still grappling with a $469 million budget shortfall from last year, not to mention an estimated $300 million deficit this year.
But the privatization onslaught is under fire - and the barrage is intensifying amid complaints about a parking-meter deal between the city and Chicago Parking Meters LLC, a Morgan Stanley company.
Earlier this month, the Chicago Inspector General's Office called the parking meter sale "a dubious financial deal." In late May, 250 new pay-and-display boxes malfunctioned in the Loop. Residents are now waging informal protests against the sale, saying that since Chicago relinquished the meters three months ago too many meters are broken, inaccurate rates are being posted, and fines have been unfairly leveraged.
---