Obama urges Congress not to put off immigration reform
But lawmakers are in no rush to tackle a controversial issue that has broad economic and social implications.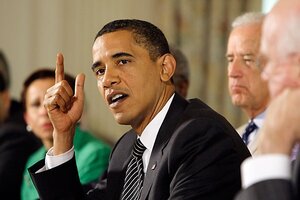 Haraz N. Ghanbari/AP
President Obama Thursday called for some "heavy lifting" on immigration reform on Capitol Hill, but there's no move there to rush into it.
With energy, healthcare, and financial regulation on a fast track, there's little running room for an issue that has baffled lawmakers for the past three years. But for president and a critical mass of interest groups heavily invested in comprehensive reform, even a symbolic stake in the ground is a start.
"The consensus is that despite our inability to get this passed over the last several years, the American people still want to see a solution," Mr. Obama said after a bipartisan meeting with House and Senate members.
"We've got a responsible set of leaders sitting around the table who want to actively get something done and not put it off until a year, two years, three years, five years from now, but to start working on this thing now," he said.
Pressed on the issue at a briefing today, House Speaker Nancy Pelosi said that "the plan has always been for the Senate to go first."
The Senate passed immigration reform in 2006, but efforts bogged down in 2007 and 2008. House Democrats, who all face voters every two years, want to be assured that a plan can pass the Senate, before taking what is for many a tough vote.
White House chief of staff Rahm Emanuel said at a Monitor Breakfast Thursday that one of the reasons the president called a meeting with lawmakers is to keep a focus on the issue because there isn't yet a majority to pass comprehensive legislation.
"The Congressional Hispanic Caucus and immigration groups have all asked for a meeting because the votes aren't there," he said. "If the votes were there, you wouldn't need to have the meeting, you'd go to a roll call."
---