Rahm Emanuel redefines bipartisanship
Obama's chief of staff says the final vote on a bill is not the only yardstick. Presidential outreach and incorporating GOP ideas count, too.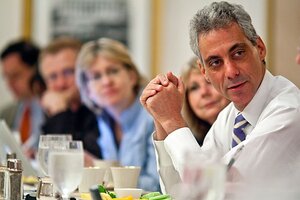 Michael Bonfigli / Special to The Christian Science Monitor
The final legislation on healthcare reform will be bipartisan, though it may not look that way, White House chief of staff Rahm Emanuel said Thursday.
"The test of bipartisanship is not just how many Republican votes you have," Mr. Emanuel told reporters at a Monitor breakfast. He laid out three tests of bipartisanship:
• The bill contains bipartisan ideas.
"That is a test the president laid out, and he has said it repeatedly: This will be bipartisan. There will be ideas from both parties and individuals from both parties in the final product," Emanuel said. "Whether Republicans decide to vote for things that they've promoted will be up to them."
• The president has reached out to Republicans.
"For [a bill] to be bipartisan, or appreciated for its bipartisanship, the president has to try," Emanuel said. "As I said after the Recovery Act [economic stimulus bill], everybody said, 'Oh you didn't get Republican votes.' But the American people saw the president trying. They saw the Republicans, implicit, instinctually and reflexively just rejecting any effort in the height of an economic recession as severe as the Depression."
• The final vote count.
"Then you'll get into the measurements that we have – 'Oh, you didn't get this many,' " Emanuel said.
---