Why didn't S.C. paper publish Sanford's love letters sooner?
The State received the governor's missives to his Argentine lover in an anonymous e-mail in December.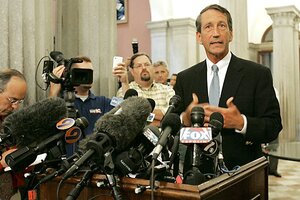 Mary Ann Chastain/AP
"The rarest of all commodities in this world is love."
Those plaintive words from South Carolina Gov. Mark Sanford – a married father of four – to his lover in Argentina are among many intimate epiphanies revealed in e-mails published by The State newspaper in Columbia, S.C., following the governor's return from a now no-longer mysterious five day trip to Buenos Aires.
But as the Palmetto State pours over the romance novel revelations of a wayward politician, there are also questions about why South Carolina's premier watchdog newspaper sat on the story since receiving the e-mails anonymously last December.
The State's editors have said they could not confirm until now whether the e-mails, which came from Governor Sanford's state e-mail account, actually were the governor's work.
But the tryst's potential effect on the state – questions are now emerging about whether taxpayers paid for the governor's trips to Argentina – and the newspaper's decision to hold off on publishing the love-sick missives reflects, at least in part, on the plight of a newspaper business in decline.
---