Criminal probe darkens Sanford's political prospects
Whether the governor broke South Carolina laws or misused funds while pursuing an illicit affair is the question, said the state's attorney general on Tuesday.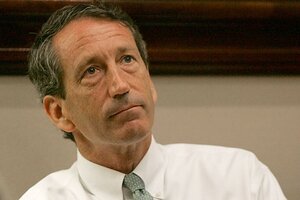 Mary Ann Chastain/AP
Just as South Carolina Gov. Mark Sanford seemed to turn the corner on surviving a scandal that threatened to unseat him, an official criminal investigation will probe whether the governor broke any state laws while conducting a transnational tryst with an Argentinian mom and former TV reporter.
Attorney General Henry McMaster, who formerly had been hesitant to investigate the governor's dalliances, said Tuesday that he has ordered a preliminary investigation into whether Sanford broke any state laws or misappropriated state funds during his secret meetings in New York and Buenos Aires with Maria Belen Chapur.
The plot thickens
Upon his return from Argentina last week, Governor Sanford told reporters he'd seen her three times in the past year. Then, in a subsequent interview Tuesday with Associated Press, he said he'd actually seen her five times in the past year. He also admitted to "crossing the line" with several other women, but not to the point of starting affairs.
"Everything that's added to the Sanford story complicates it: When you had one mistress and three visits, you had one dimension. And when it becomes crossed lines with other women and additional meetings with Ms. Chapur, you inevitably have to say, 'What else?' " says Charles Bierbauer, dean of the University of South Carolina's communications department, and a former political reporter. "The attorney general is well within his rights to say, 'What else don't we know about the governor's escapades?' "
---
Follow Stories Like This
Get the Monitor stories you care about delivered to your inbox.