Are Specter's Senate days numbered?
The five-term senator from Pennsylvania faces dipping polls and now, a Democratic primary contender in Rep. Joe Sestak.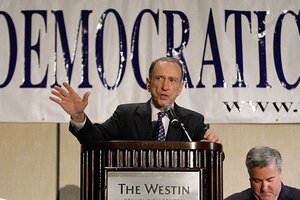 Gene J. Puskar/AP
When Sen. Arlen Specter of Pennsylvania joined the Democratic Party two months ago, he was fleeing a tough Republican primary. Now, he may face a tough Democratic primary.
Rep. Joe Sestak (D) of Pennsylvania has all but formally announced his candidacy for Senator Specter's seat, regularly telling interviewers he's running. On Wednesday, Congressman Sestak told the Wayne County, Penn., newspaper, The Wayne Independent: "I am going to get into the race against Arlen Specter."
Sestak, a retired Navy admiral, could undercut Specter from two directions – appealing to conservatives with his military background while appealing to progressives with his support for President Obama's domestic agenda. For Mr. Obama, the pressure on Specter from the left could be a godsend during these next critical months, when the president will need every Democratic vote. Just days after Specter switched parties, he said on "Meet the Press:" "I did not say I would be a loyal Democrat."
---