California crisis a threat to US economic recovery
Economists worry that the budget deficit could hurt the state just as it has begun showing signs of recovery.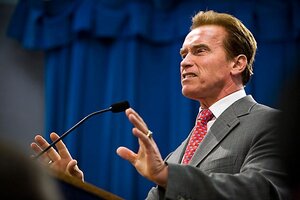 Max Whittaker/Reuters
After lawmakers in Sacramento failed to meet a midnight deadline Tuesday to close the state's $24 billion budget gap, Gov. Arnold Schwarzenegger declared a state fiscal emergency Wednesday. He hoped to prod politicians into coming to an agreement over spending cuts and keep the state's financial crisis from deepening.
Politicians continued to wrangle over cuts Wednesday that would meet the approval of Governor Schwarzenegger, who has demanded a plan that balances the budget. Meanwhile, the state's controller prepared to issue IOUs to creditors if the state can't agree on a spending plan by Thursday.
California is not the only state struggling to pass a budget, but the depth of its crisis and the size of its economy raises the financial problem to a level of national concern.
"It's easy to make fun of all those greedy, flaky Californians, but the national economy can't recover with an anchor the size of California holding it back," says Dan Schnur, political scientist at the University of California in Berkeley and a former Republican strategist.
Home to more than one-tenth of all Americans and an annual economy of $1.7 trillion, California is a national retail behemoth and engine for the overall economy – in real estate, auto sales, technology, construction, and agriculture.
---