Is Sanford too lovesick to govern?
Pressure to resign mounts as the Republican South Carolina governor's emotional outpourings raise doubts among his own party.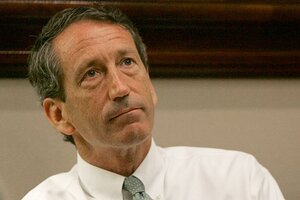 Mary Ann Chastain/AP
South Carolina Gov. Mark Sanford hasn't budged on his vow to remain in office despite laying bare his heart about his trysts with an Argentine lover and encounters with other women.
But some political observers say the love affair and the furor around it has clouded Governor Sanford's judgment, leaving him too distracted and politically damaged to last much longer as the Palmetto State's chief executive.
Sanford has turned important business of the state into "The Mark Sanford Show," says veteran political observer and lobbyist John Crangle.
"He's lost contact with reality," says Mr. Crangle. "He seems to go up and down like a yo-yo: One minute he's involved in the transports of love and romance, and the next thing he's crying in Argentina for five days. He's really on a roller coaster, and I'm concerned."
The lovesick governor is somewhat unusual among political sex scandals, which don't generally involve waxing lyrical about "magnificent, gentle kisses," as Sanford did in e-mails to Maria Belen Chapur, the former TV reporter with whom he had an affair for at least a year.
So, will this affair affect Sanford's future or not?
Andy Brack, publisher of the S.C. Statehouse Report, says he thinks "the pressure is now off" Sanford, and he should be able to serve out his term.
But more than half of the Republican-controlled state Senate has called for Sanford's resignation. And some say the governor is losing the grass-roots support – including retirees, rural voters, and evangelicals – he relied on in making unpopular decisions such as his attempt to reject federal stimulus dollars, a fight he eventually lost in court.
---