Defining the (carefully crafted) terms of healthcare reform
There's no reform bill to debate yet, but both sides know that shaping the debate early is crucial to victory.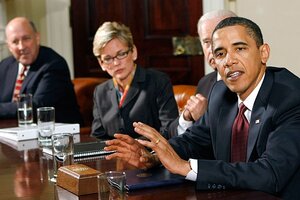 Kevin Lamarque/Reuters
The final details of healthcare reform have yet to emerge from the committee rooms and caucuses on Capitol Hill, but the battle to shape public opinion is already fully scripted and well under way.
The "messaging wars" are, in many respects, just as important as those taking place now in congressional committees. Democratic activists say that President Clinton's bid for healthcare reform in 1994 and - for those with longer memories – President Truman's failed 1946 plan toppled on fear, not policy.
Those administrations were outflanked rhetorically long before bills got near a vote. But this time both sides are keenly aware that the words they use now could play a decisive role in what happens to the policy to come.
So they are rolling out a new battery of poll-tested phrases to tilt the terms of the debate to their own advantage. Is it a "government takeover" or a "public option"? Is it "universal coverage" or "quality, affordable healthcare for all"?
"These are very carefully selected linguistic choices," says Kathleen Hall Jamieson, a professor of communication and director of the Annenberg Public Policy Center at the University of Pennsylvania. "There is a linguistic set of choices under every policy decision, and when you frame it poorly, you're going to lose the argument."
---
Follow Stories Like This
Get the Monitor stories you care about delivered to your inbox.