Obama fights for health reform– from Moscow
He has not insisted that an overhaul include a public insurance option... or else. But on Tuesday he reiterated his preference for that approach.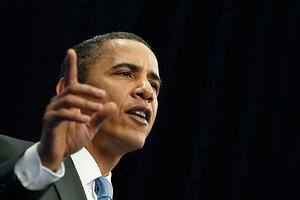 Jim Young/Reuters
President Obama is in Moscow, but he's still in the thick of negotiations over health reform back in Washington.
On Tuesday, The Wall Street Journal quoted presidential Chief of Staff Rahm Emanuel as saying that the White House is open to a deal on the so-called public insurance option, which has emerged as a key sticking point in congressional discussions. The purpose of instituting a "public option" is to provide competition for private insurers, and thus drive down costs. Opponents fear injecting a low-priced public plan into the mix could drive private insurers out of business.
Mr. Obama has argued early and often for a public option, though never issued an ultimatum.
Now Mr. Emanuel is saying that while the goal of creating competition is "nonnegotiable," the path to getting there is. One alternative he raised is to institute a public plan only if the marketplace does not provide enough competition on its own. Such a "trigger" was put in place in the 2003 deal for prescription drugs in Medicare, but it was never implemented.
Obama still likes a public option
Enter the remote hand of Obama, with his thumb resting more heavily on the scale for a public option. Mid-morning on Tuesday, a "Statement from the President on Health Care Reform" landed in in-boxes, reportedly at the urging of Senate Democrats: "I am pleased by the progress we're making on healthcare reform and still believe, as I've said before, that one of the best ways to bring down costs, provide more choices, and assure quality is a public option that will force the insurance companies to compete and keep them honest," the statement said. "I look forward to a final product that achieves these very important goals."
---