Alaska's tab for ethics complaints about Palin: $1.9 million
It's a tiny fraction of the state's operating budget, but Palin supporters insist the cost weighed heavily on the soon-to-be-ex-governor.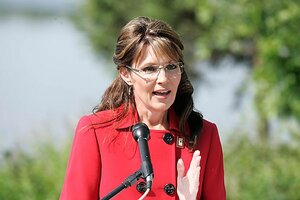 Robert DeBerry/The Mat-Su Valley Frontiersman/AP
The numbers are in. Alaska's response to ethics allegations and requests for information concerning the conduct of soon-to-be-ex-governor Sarah Palin has cost the state $1.9 million.
The expense of supplying information and answering the allegations, Governor Palin has said, is a key reason she decided to resign her post as of July 26. Her office supplied the cost breakdown late Wednesday.
It's indisputable that Palin has come under more scrutiny than her most recent predecessors in office – and that the ethics complaints and requests for information crescendoed after she was tapped to run for vice president on the national Republican ticket. No complaints were filed against her two predecessors, Frank Murkowski, a Republican, and Tony Knowles, a Democrat, compared with 15 against Palin during her 2-1/2 years in office.
Palin's office and her supporters insist that these state-borne costs weighed heavily on the governor, along with her own personal legal bills. Others scoff at the idea that she's leaving office over it.
Where the $1.9 million went
The spreadsheet released Wednesday shows that most of the $1.9 million – spread over Palin's tenure – is for staff time of state attorneys and other salaried state employees, who would have been paid anyway. The total expended to date is 0.02 percent of Alaska's operating budget of $8.7 billion for fiscal year 2010.
Still, the apportioned expenses for state workers represent a diversion from normal work, says Palin spokeswoman Sharon Leighow.
---