Pelosi, Panetta in new duel over CIA misleading Congress
In a closed briefing, did the spy chief acknowledge that the agency had 'concealed significant actions'?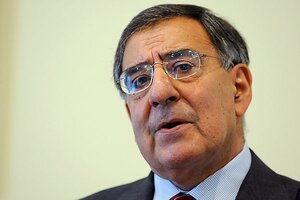 Jonathan Ernst/Reuters
Central Intelligence Agency director Leon Panetta is not blinking in a new face-off with House Democrats over whether the CIA misled the Congress in the Bush years.
It's a charge famously raised by Speaker Nancy Pelosi on May 14 but quickly denied by Director Panetta, then just three months into his new job. Ms. Pelosi was disputing charges that she had been briefed by the CIA about torture of detainees but did nothing about it.
The flap put the credibility both of the speaker and the agency on the line, and it helped drive down Pelosi's public approval ratings.
But this week, on the eve of a key House vote to authorize funding for US intelligence, House Democrats are giving Panetta a second shot at backing up the speaker. He's not taking it.
"Director Panetta stands by his May 15 statement. It is not the policy or practice of the CIA to mislead Congress," said CIA spokesman George Little on Thursday.
"This Agency and this Director believe it is vital to keep the Congress fully and currently informed. Director Panetta's actions back that up," Mr. Little said.
At issue is what Panetta told the closed briefings with the full House and Senate intelligence committees on June 24. Seven Democrats on the House intelligence panel say Panetta privately confirmed that "top CIA officials have concealed significant actions from all members of Congress and misled members for a number of years from 2001 to this week." They want him to "correct" his May 15 statement and say so publicly – a move that would back Pelosi's claims.
---