Sonia Sotomayor's historic trial by Senate fire about to begin
She'll face tough questioning, but even Republicans expect her to be confirmed.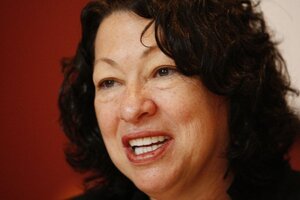 Charles Dharapak/AP File
On Monday, the curtain rises on one of the great moments in political theater: Senate confirmation hearings for a member of the Supreme Court of the United States. In this case the drama will be especially historic: Sonia Sotomayor is one of the few women ever nominated to join the highest court in the land, and she's also the first Hispanic.
There's a kabuki aspect to it.
Like nominees before her, Judge Sotomayor (who's served on lower federal courts for the past 17 years) will avoid being pinned down on firecracker issues like abortion, affirmative action, and gun control. She'll be pressed on her judicial philosophy and the hundreds of rulings she's been part of over the years.
Senate Republicans will challenge President Obama's first high court nominee -- one of the few ways the minority party can assert itself. Judiciary Committee member John Cornyn of Texas has been posting daily questions for Sotomayor on his web site. These are a sort of template for what can be expected in the formal committee room setting on Capitol Hill.
---