Obama's agenda at risk in push for CIA inquiry
Reports of a secret CIA program renew Democrats' calls to investigate Bush policy – which could divert attention from Obama's healthcare and energy plans.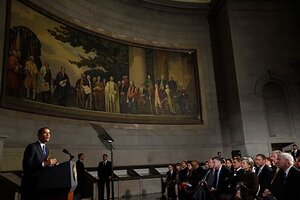 Charles Dharapak/AP/File
The growing clamor in Washington for investigations into controversial Bush-era antiterror policies is putting President Obama in a difficult political position.
Senior Democrats in Congress seem eager for an inquiry into whether the CIA hid information from Congress at the direction of former Vice President Dick Cheney. The Democratic party's liberal base could revolt if Obama tries to block a look at the past.
But such an investigation could also damage the prospects for Obama's healthcare and energy plans, polarizing lawmakers along party lines and making it more difficult to attract GOP votes for his agenda.
Mr. Cheney and other former Bush officials would fight back, too, making any inquiry more complicated and diverting national attention at a crucial time for the administration.
"If you're Obama, no, this would not be a good idea," says Ian Lustick, a political science professor at the University of Pennsylvania in Philadelphia.
The renewed interest in investigating Bush policies was triggered by secret meetings June 24 between CIA director Leon Panetta and the House and Senate Intelligence Committees. At those meetings, Mr. Panetta revealed that he had discovered a classified CIA counterterror program that had been concealed from Congress.
---