Sotomayor hearings begin with debate over judges' role
Senators drew the battle lines early in confirmation hearings for the Supreme Court nominee.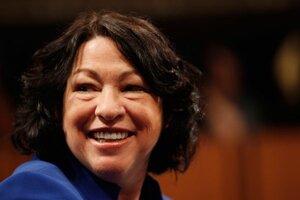 Gerald Herbert/AP
Sharp battle lines were quickly drawn between Democrats and Republicans on the first day of Senate confirmation hearings for Supreme Court nominee Sonia Sotomayor.
Even before Judge Sotomayor delivered her own introductory remarks Monday, senators on both the right and the left sought to frame the historic hearings as part of a broader debate over the proper role of American judges.
Some Republicans portrayed Sotomayor as a judicial activist with a liberal agenda, basing their assessment on some of her public statements. In an often-quoted 2001 lecture, she stated that her background as a "wise Latina woman" might help her make better decisions as a judge than white male judges.
Democrats downplayed the significance of that and other of her statements. They fired back by attacking Chief Justice John Roberts and his analogy, during his own confirmation hearings, likening a judge to an umpire who merely calls balls and strikes.
"I do not believe that Supreme Court justices are merely umpires calling balls and strikes," said Sen. Dianne Feinstein (D) of California. "Rather, I believe that they make the decisions of individuals who bring to the court their own experiences and philosophies." She said that by her count, the chief justice and Justice Samuel Alito had disregarded or overturned legal precedents in eight different cases.
---