Sotomayor opens by stressing fidelity to the law
She presented a compelling story of family struggle and had a few words of explanation to her harshest critics.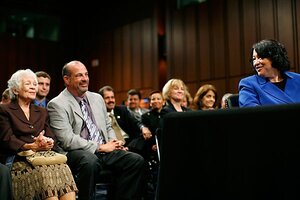 Kevin Lamarque/Reuters
US Supreme Court nominee Sonia Sotomayor introduced herself to the nation on Monday, presenting a compelling story of family struggle and a few words of explanation to her harshest critics.
"Throughout my 17 years on the bench, I have witnessed the human consequences of my decisions," she told members of the Senate Judiciary Committee. "Those decisions have been made not to serve the interests of any one litigant, but always to serve the larger interest of impartial justice."
The 10-minute statement came at the end the first day of her week-long confirmation hearings and set the stage for an anticipated full day on Tuesday of questions from senators.
Republicans are expected to grill the federal appeals-court judge about controversial statements she made in speeches and on panels suggesting that appeals-court judges are policymakers and that a "wise Latina" judge can render better decisions than white male judges.
At the heart of the Republican critique of Judge Sotomayor is a charge that she will favor the poor and powerless in litigation regardless of the legal merits of a particular case.
Democrats on the Judiciary Committee reject that view, insisting that her long record as a judge demonstrates she is a careful and restrained jurist.
For her part, Sotomayor told the committee that her judicial philosophy is fidelity to the law. "The task of a judge is not to make the law. It is to apply the law," she said.
Although she did not use the word "empathy," she stressed the importance of a judge being able to understand and acknowledge the concerns of the parties appearing before her.
"That is how I seek to strengthen both the rule of law and faith in the impartiality of our justice system," she said. "My personal and professional experiences help me listen and understand, with the law always commanding the result in every case."
---