Sotomayor: 'wise Latina' a bad choice of words
But during Tuesday's hearing, the Supreme Court nominee demonstrated a comprehensive understanding of the law and jurisprudence.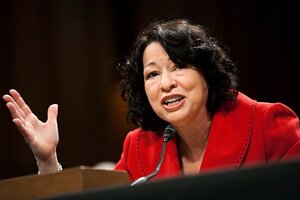 Joshua Roberts/Reuters
Supreme Court nominee Sonia Sotomayor backed away from a now-famous quotation from one of her speeches, saying her comment about a "wise Latina" judge had fallen flat, and was "a bad idea."
She did not apologize, but under questioning by Republican Sens. Jeff Sessions of Alabama and John Kyl of Arizona on Tuesday she conceded that her choice of words may have led to confusion and misinterpretation.
"I was using a rhetorical flourish that fell flat," Judge Sotomayor told the Senate Judiciary Committee on the second day of her week-long confirmation hearings.
The admission came during a day-long hearing in which senators closely questioned the nominee seeking insight into her judicial philosophy, her ideology, her professional qualifications, and her 17-year-record as a federal trial judge and appeals court judge.
Through it all she maintained a calm and businesslike demeanor while demonstrating a comprehensive understanding of the law and Supreme Court jurisprudence. She was careful to say enough, yet not too much.
---