Sotomayor dodges gun-rights questions
The Supreme Court nominee is choosing her words carefully about the Second Amendment during confirmation hearings.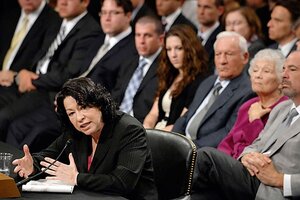 Jonathan Ernst/Reuters
For the second day, Supreme Court nominee Sonia Sotomayor dodged questions about whether she believes the Second Amendment guarantees a fundamental right to keep and bear arms.
Judge Sotomayor told senators Wednesday that the US Supreme Court had ruled in 2008 that there is an individual right to guns and other weapons. But she stopped short of revealing her thoughts on whether that right was worthy of the kind of judicial protection afforded fundamental rights like the First and Fourth Amendments.
At one point Sen. Tom Coburn (R) of Oklahoma asked Sotomayor whether he had a right to self defense.
"That is an abstract question with no meaning to me," Sotomayor responded.
Senator Coburn persisted. "That's what the American people want to know. Is it okay to defend yourself in your home if you are under attack?"
Questions about Sotomayor's views on the Second Amendment stem from her involvement in a New York appeals court decision in January that sharply restricted gun rights.
The three-judge panel of which she was a part said the Supreme Court's 2008 decision applies only to the federal government. The Sotomayor panel ruled that New York and other states were free to regulate or ban weapons if they have a rational basis to do so.
---