Sotomayor on track to easy Supreme Court confirmation
At her confirmation hearings this week, any ideological slugfest was avoided as the nominee stayed low-key and judicial.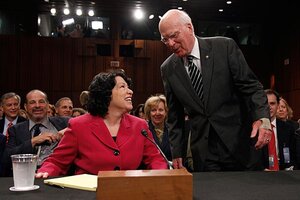 Jason Reed/Reuters
Sonia Sotomayor will win easy confirmation as the 111th justice on the US Supreme Court. The only remaining suspense is how many Republican senators vote for her.
Some analysts had anticipated her four-day Senate confirmation hearings this week might degenerate into an ideological slugfest over competing liberal-conservative views of proper judicial philosophy. But Judge Sotomayor, her White House handlers, and her Senate allies decided to focus instead on the task before them – winning a lifetime seat on the highest court in the land.
To do it, they presented a softer, gentler version of Sonia Sotomayor. She smiled. She was patient. And she demonstrated a willingness to backtrack on every edgy or provocative comment she'd ever uttered, including her now famous "wise Latina" speech.
Instead of fighting back or engaging in debate, she followed the example of other successful high-court nominees in recent years. She was vague, evasive, and quick to find common ground on unimportant side issues.
At the same time she worked to demonstrate a solid understanding of constitutional jurisprudence and to convey an appreciation of the limited but powerful role of judges in American government.
The real Sonia Sotomayor, the passionately engaged jurist famous for hurling devastating questions hard and fast at lawyers in her courtroom, stayed home.
---