Democrats battle to regain healthcare momentum
Obama launched a campaign on health reform Monday, but opposition is building on both sides of the aisle.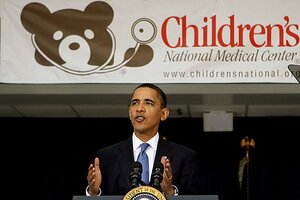 J. Scott Applewhite/AP
With a self-imposed August deadline looming, Democratic leaders are struggling to regain momentum for an overhaul of the nation's $2.3 trillion healthcare system.
President Obama launched a week of hard campaigning on the issue Monday with a broadside at a GOP charge that health reform would be his "Waterloo."
"This isn't about me. This isn't about politics. This is about a healthcare system that is breaking America's families, breaking America's businesses and breaking America's economy," he said in comments at the Children's National Medical Center.
But polls show the president is losing ground over his handling of healthcare. While most Americans still want healthcare reform, Obama's approval ratings on the issue dropped from 57 percent in April to 49 percent in a Washington Post-ABC News poll released today.
Opposition is building on both sides of the aisle. In the House, conservative Democrats are threatening to scuttle legislation in the Energy and Commerce Committee this week unless the long-term threat to federal deficits is addressed.
In a move demonstrating their clout, seven so-called Blue Dog Democrats sided with Republicans to give the minority a rare victory on an amendment vote Friday. Within 24 hours, all seven had been targeted by ad campaigns in their districts by the Democratic National Committee or Health Care for America Now, a coalition of unions and liberal activist groups.
---