Senate cuts F-22 funding: a win for Obama and Gates
Proponents of the plane had argued for preserving jobs in the name of national security.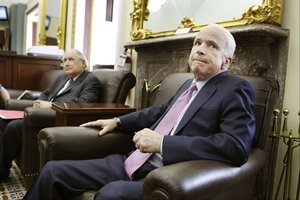 Gerald Herbert/AP
If Defense Secretary Robert Gates is an agent of change at the Pentagon, then Tuesday was a pretty good day.
Senators voted Tuesday to strip $1.7 billion of funding from the defense budget that would have built seven more F-22 Raptor stealth fighters. Secretary Gates favored removal of the funding, and the vote could signal his ability to change the status quo on defense spending.
"Up until the last couple of hours, this vote was in doubt," Sen. John McCain (R) of Arizona said after the vote. "This was one of the most significant votes in national security in the years I've been in the Senate."
Senator McCain and Sen. Carl Levin (D) of Michigan sponsored an amendment to remove the funding. After much debate on the Senate floor, the amendment passed 58 to 40.
President Obama threatened to veto any bill that continued building the plane beyond the 187 the administration supports.
---