Biden's tough love for Ukraine
Vice President Biden lets Washington's frustrations with political infighting in Ukraine be known.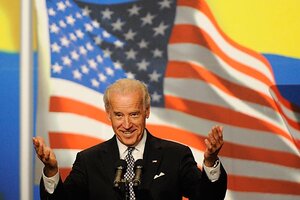 Sergei Chuzavkov/AP
Vice President Joe Biden had some surprisingly pointed comments for Ukrainians yesterday.
Speaking in front of 400 Ukrainians in a speech that was billed as an address to the nation's citizens, Biden chastised Ukrainian officials for, among other things, their immaturity in dealing with inter-party conflicts. Evoking poet Taras Shevchenko, a national icon, Biden said Shevchenko would likely "be wondering why the government is not exhibiting the same political maturity as the people."
Reforms have stalled and political bickering has become widespread after Ukraine's 2004 Orange Revolution. Coupled with neighboring Georgia's Rose Revolution a year earlier, the Orange Revolution was a source of hope for Western countries that democracy could take hold in states of the former Soviet Union.
Frustrated by the stalemate and lack of progress, Ukrainians have showed signs of throwing their support to opposition leader Viktor F. Yanukovich, a move that would more closely align the country with Russia and, according to some, could tip the country back toward authoritarian rule.
---