Where do reforms urged by 9/11 commission stand?
Five years after the commission released its report, one key reform for US security – streamlining congressional oversight – hasn't happened.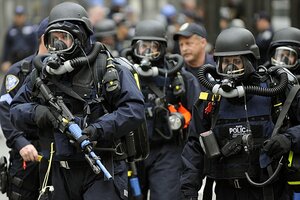 Timothy A Clary/AFP/NEWSCOM
Five years after the 9/11 commission made its recommendations for improving homeland security, Congress has overhauled national intelligence and spent billions to upgrade security for air traffic, ports, and other critical infrastructure. But the reform deemed essential to all others - streamlining congressional oversight - never got off the ground.
A staggering 108 congressional committees and subcommittees now claim oversight of the US Department of Homeland Security (DHS). That's up 20 from the 9/11 commission's count of 88 in 2004 - a system it then dubbed "dysfunctional."
Failure to reform congressional oversight has stymied legislation on issues ranging from security for ports and at-risk facilities to seamless communications for first responders.
In its final report, released July 22, 2004, the National Commission on Terrorist Attacks upon the United States, as it is formally known, urged Congress to create a single point of oversight for homeland security, preferably a permanent standing committee with a nonpartisan staff. It also predicted that Congress would be loath to reform itself - and that without unity of congressional oversight, all other national-security reforms would suffer.
"Few things are more difficult to change in Washington than congressional committee jurisdiction and prerogatives," the report concluded. "The American people may have to insist that these changes occur, or they may well not happen."
They have not. A maze of overlapping jurisdictions imposes a massive reporting load on DHS officials. Since 2004, the department has prepared more than 11,300 congressional briefings, and DHS officials have appeared as witnesses before 1,000 committee hearings.
---
Follow Stories Like This
Get the Monitor stories you care about delivered to your inbox.