Obama's $4 billion is massive incentive for school reform
The president says schools that prioritize his agenda will get the cash. State and education officials are wary, but they need the money desperately.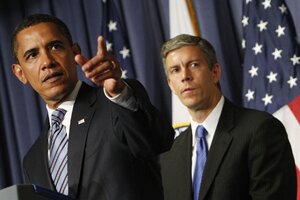 Jim Young/Reuters
The rush is on for $4.35 billion in "Race to the Top" grants, targeted to leverage historic reforms in US public schools.
"This is one of the largest investments in education reform in American history," said President Obama at the US Department of Education on Friday. "And rather than divvying it up and handing it out, we are letting states and school districts compete for it."
The high-stakes grants are targeted to reward states and school districts that are "ready to do things that work," the president said. "That's how we can incentivize excellence and spur reform and launch a race to the top in America's public schools."
It looks like a carrot, but with so many states and local school districts hard-hit by recession, education activists say that new federal windfall may feel like stick.
"No state official wants to leave this much money on the table," says Michael Petrilli, an education official in the last Bush administration, now with the Thomas B. Fordham Foundation in Washington.
For the past two months, Education Secretary Arne Duncan has been telling education groups that if they want to have an edge going into the competition for these grants, they must demonstrate four key reforms. These include:
• Reversing a pervasive dumbing down of academic standards and testing.
• Establishing better data on student achievement, including linking teacher evaluations and pay to student outcomes.
• Improving or replacing teachers who aren't up to the job, especially in high-poverty schools and hard-to-staff subjects.
• Turning around failing schools, including replacing school staff and changing school culture.
"For the first time in history, we have the resources at the federal level to drive reform," Secretary Duncan said as he released draft guidelines for the competition on Friday.
---