Once again, California balances budget with 'tricks'
The plan, which passed the state Senate Friday, relies partly on maneuvers that push the problems to next year.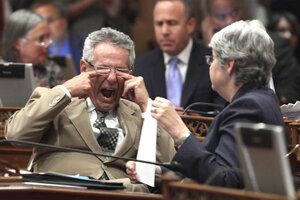 Rich Pedroncelli/AP
In dealing with California's $26 billion budget deficit, Gov. Arnold Schwarzenegger is fond of saying he doesn't want to just "kick the can down the road" – that is, deal with the problem later or borrow money from the next generation.
But several economists watching the budget wrangling in the Sacramento statehouse say lawmakers are choosing accounting moves – some say "gimmicks" – to provide the appearance of an acceptable budget, without really addressing the structural problems underneath.
"Some of these are accepted practice in other states, others are blatant tricks that have become common in California," says Philip Romero, dean of business and economics at California State University, Los Angeles.
The California Senate on Friday approved a plan to close the state's budget deficit. The 80-member Assembly was still arguing Friday afternoon over some measures in the 31-bill package, which combines deep spending cuts, borrowing from local governments, and some time-tested accounting maneuvers.
One "trick" is to bump payroll expenses by one day, from June 30 to July 1, to make them a fiscal year 2011 expense, when revenues might be flowing better. "This is a paper savings of $1.2 billion which in my mind is clearly a gimmick… How are you going to make up for that unless you do it every year?" asks Jessica Levinson, director of political reform for the Center for Governmental Studies.
Another move is to withhold more taxes sooner from state paychecks – even if the money must be paid back, it generates a temporary increase in cash flow.
---