To move nation past 'stupidly' comment, Obama speaks again
The president stepped in, saying he should have chosen different words in discussing the arrest of Harvard scholar Henry Louis Gates Jr., in an attempt to defuse the rapidly escalating situation.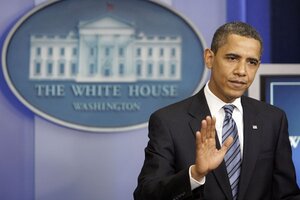 Alex Brandon/AP
President Obama did not apologize outright Friday for saying that the police had "acted stupidly" in arresting black Harvard scholar Henry Louis Gates Jr. last week, but he came awfully close.
In a surprise appearance at the regular White House briefing Friday, the president said he "could have calibrated those words differently."
Mr. Obama initially commented on Mr. Gates's arrest at a press conference Wednesday and then returned to the issue in an interview with ABC-TV on Thursday. Before the Friday's briefing, Press Secretary Robert Gibbs had signaled that he believed the president was likely finished speaking about the incident.
With this latest round of comments, Obama showed that he recognized that the controversy was not subsiding and that he could play a role in soothing tensions.
"In my choice of words, I unfortunately gave the impression that I was maligning the Cambridge Police Department or Sergeant Crowley specifically," Obama said Friday. He continued to say that he believes Crowley to be "an outstanding police officer."
He was referring to the policeman who had arrested Gates last week for disorderly conduct after Gates was seen forcing open the door to his own Cambridge, Mass., home.
Police organizations, some of whom supported his election, had been vocally critical of his original statement.
---