Three reasons Palin's move might be about money
The Alaska governor's quixotic decision to resign, effective Sunday, could be motivated by any number of factors. But money – saved or earned – appears almost certain to be one of them.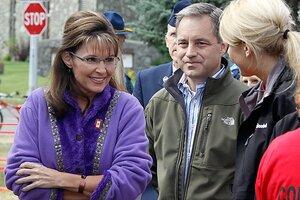 Al Grillo/AP
Many Americans are still confused about the sudden resignation of Gov. Sarah Palin, who will leave her post at a picnic in Fairbanks today. But one clear message has emerged, say friends and foes of the former vice presidential candidate: It is, at least partly, about the money.
No. 1: Legal bills – the personal costs
It's about a personal legal bill that the governor says has exceeded $500,000 to fight a barrage of more than 20 ethics charges.
The charges range from the serious – using state money on personal travels – to others that have been quickly dismissed. One Anchorage blogger alleged that it was a conflict of interest for Governor Palin to act as the starter in a snowmobile race in which her husband was racing, because she wore the jacket of her husband's team.
Alaska is unusual in that any citizen can file an ethics charge against the governor so long as it is submitted in writing, signed under oath, and includes details of the alleged violation.
To offset the personal cost of fighting the charges, Palin has set up the "Alaska Fund Trust" – a legal-defense fund administered by a longtime friend and soliciting contributions nationally. But Alaska's independent counsel has said that the fund itself violates the state's Ethics Act, which prohibits using an official government position for personal gain.
That assessment is not final or fair, say Palin supporters, who claim the governor has been harassed because of her national profile.
No. 2: Legal bills – the costs to Alaska
It's about additional costs to the state that would be incurred if she stays in office, Palin and her supporters have claimed. The Palin camp has said the associated tasks cost the state nearly $2 million.
---