House takes big step toward healthcare reform vote
Democratic leaders cut a deal with their party's conservative 'Blue Dogs,' but Progressives on the left say 'no way.'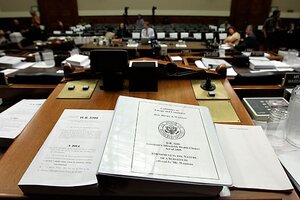 Susan Walsh/AP
House Democrats today cut a deal with fiscal conservatives in their own ranks on healthcare reform – opening the door to a full House vote in September.
The agreement allows the Energy and Commerce Committee – the last of three House panels drafting healthcare legislation – to complete its work on the bill. The deal aims to cut costs of the $1 trillion program by 10 percent, rein in the scope of a public option, and exempt most small businesses from a requirement to provide health insurance for employees.
"Progress has been and will continue to be difficult, but getting it right is more important than getting it done right away or working on artificial timetables," said the 52-member Blue Dog Coalition in a statement.
In a move to trust but verify, the Blue Dogs are also calling for a full scoring by the Congressional Budget Office before the full House considers a bill to "ensure it appropriately reflects the principles we have articulated."
That means that for a deal to stick, it must be included not just in the version of the bill that clears the Energy and Commerce Committee, but also the final bill that lawmakers will vote on in the fall.
At the urging of President Obama, House Democratic leaders had hoped to meld the work of three committees into a comprehensive bill to be voted out by the August recess. But the standoff with seven Blue Dogs in the Energy and Commerce Committee brought work on that panel to a standstill.
Speaker Nancy Pelosi, majority leader Steny Hoyer, and White House officials have put in marathon sessions to broker a deal with the Blue Dogs and Rep. Henry Waxman (D) of California, who chairs the energy and commerce panel. Four of the seven Blue Dogs on the panel backed the deal.
---