Senate veers toward healthcare bill that pleases no one
A bipartisan group of six senators worked Tuesday to hammer out a deal. But both parties worry that they will find the final product unacceptable.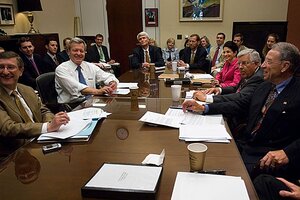 Scott J. Ferrell/Congressional Quarterly/Newscom
The last prospect for a bipartisan deal on healthcare reform hangs on closed-door negotiations among six senators, but colleagues on both sides of the aisle are already signaling doubts over whether it can win broad support.
Members of the group have talked about cutting Medicare costs and taxing the highest-end insurance plans – those of more than $250,000, perhaps. More controversially, the group might also be considering jettisoning a public option – one of President Obama's primary wishes – because it is a nonstarter for Republicans, in favor of health insurance cooperatives.
"We don't know what's going on in these delicate negotiations," says Sen. Richard Durbin (D) of Illinois, the majority whip. "There's high anxiety. We can't say sight unseen if this will be something Democratic leaders can support."
Republicans ready to start over
Republican leaders are already talking in terms of scrapping proposals to date.
"My guess is that, when it's all said and done, we'll come back in September and we'll say, let's start all over again," says Sen. Jon Kyl (R) of Arizona, the Republican whip.
"We need to clear the decks here and solve specific problems with specific solutions that do not impose a government takeover and hurt … what most Americans can enjoy today," he adds.
Trying to get it done
---