Public wants health reform, but wary of 'Obama's plan'
Americans worry anything Washington comes up with will only raise costs.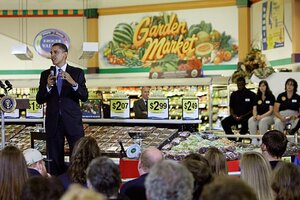 Haraz N. Ghanbari/AP
New polls show that many Americans are torn two ways on healthcare reform: They think major change in the system is needed, yet they worry that Washington-style change will backfire – adding to costs and reducing the quality of care.
That view, which emerges in several new polls, reveals why President Obama's push for healthcare reforms has hit speed bumps this summer. But it also suggests that the public could still rally behind a significant departure from the status quo under the right conditions.
Here's what the polls are saying:
•Some 42 percent of Americans say Mr. Obama's healthcare plan is a bad idea, up from 32 percent in June, according to a Wall Street Journal/NBC News poll released Thursday. Thirty-six percent call it a good idea.
•A majority say that if the government creates a system of providing care for all Americans, healthcare will cost more and the quality of care will decline, finds a new New York Times/CBS News poll. The level of worry rose in July compared with June.
•At the same time, Americans in the Times/CBS poll expressed an equal level of concern about rising costs if the government does not guarantee access to care. And most Americans in a new Time magazine poll say they want to see major reforms (not minor tinkering), and they want it soon.
• For all their wariness of big government, Americans generally support the idea of a "public plan" offered by the government alongside private insurers, according to a poll conducted for the Employee Benefit Research Institute in Washington.
---