Dems appear to set deadline for bipartisan healthcare
In a meeting with the president Tuesday, Senate Democrats agree to work with Republicans on a bipartisan bill – but only until the middle of September.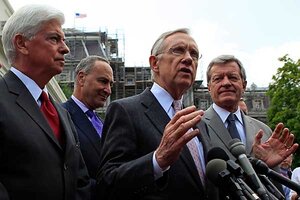 Jim Young/Reuters
At a White House luncheon today, President Obama praised Senate Democrats for efforts to find a bipartisan path to overhaul the nation's $2.5 trillion healthcare system.
But the tone turned urgent when the president talked about the need to move a healthcare bill out of the Congress and to his desk this year.
"There was absolute unity in the caucus. Different ideas were expressed, but every idea was that we understand that before year's end we're going to get comprehensive healthcare reform," said Senate majority leader Harry Reid to reporters after the event. "Everyone recognizes that we are going to do, if there's any way humanly possible, a bipartisan bill. We'll continue to work with them as long as we have to," he added.
But if that path fails, Democrats at the event say the president also spoke of the need to try something else. And the point at which Democrats go it alone may well be Sept. 15, they said.
Four congressional committees, two in the Senate and two in the House, have completed work on drafts of a bill. The lone holdout is the Senate Finance Committee, where chairman Max Baucus (D) of Montana, two other Democrats and three Republicans, have been negotiating a bipartisan alternative – the only congressional panel to attempt it.
---